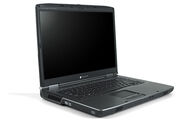 The Gateway MA8 chassis is a 15.4" widescreen chassis with a black lid, base and LCD bezel and a tungsten palmrest with black accents. The chassis is made from all ABS high-impact plastic, but has a magnesium frame for the LCD hinges to sit in. The magnesium frame also adds rigidity to the system when assembled.
The MA8 chassis is used in the MX600x models of the MX6000 series and in most ML6000 models.
It is aesthetically similar to the MA7 chassis, but is nearly all black. It can be physically distinguished by its 4 grouped USB ports as opposed to the MA7's 2 groups of 2 USB ports.
The following is info pulled from Gateway's legacy site. The gallery images correspond with each info section:
Component
Icon
Description
A. Webcam (optional)
The optional webcam can be used to add video and audio to many of the available Internet chat programs and allow others to see who they are communicating with when making Voice Over Internet Protocol (VoIP) calls. In addition, by using the software included with the webcam, you can take pictures or create video clips.
B. Webcam status indicator (optional)
When lit, this light indicates the optional webcam is in use.
C. LCD display panel

15.4-inch active matrix (TFT) LCD color display
Maximum panel resolution: 1280 × 800

D. Multimedia panel (optional)
Use to control playback of CDs and DVDs. The panel includes volume control buttons.TD>
E. Power button
Press to turn the power on or off.
F. Microphone
Record audio through this microphone or use it to talk through when making Voice over Internet Protocol (VoIP) calls. The built-in microphone is turned off while an external microphone is connected.
G. Keyboard
Provides all the features of a full-sized keyboard.
H. Touchpad
Provides all the functionality of a mouse.
I. Status indicators
Informs you when a drive is in use or when a button has been pressed that affects how the keyboard is used.
All items (31)